Smile Bright: Dental Treatment in Turkey
Smile Bright: European Patients Seeking Dental Treatment in Turkey
Turkey has emerged as a leading destination for dental treatment, attracting a growing number of European patients seeking high-quality oral care at affordable prices. This article explores the reasons behind the increasing popularity of dental treatments in Turkey among European patients.
The Importance of Dental Health
Dental health is integral to overall well-being, impacting speech, nutrition, and self-esteem. Maintaining healthy teeth and gums is a priority for people of all ages.
Turkey's Dental Excellence
Skilled Dental Professionals: Turkish dentists are renowned for their expertise and proficiency in various dental procedures. Cutting-Edge Technology: State-of-the-art dental clinics in Turkey are equipped with advanced diagnostic and treatment tools. Comprehensive Dental Services: Turkey offers a wide range of dental treatments, from routine check-ups to complex restorative work.
Affordability and Accessibility
Dental treatment in Turkey is often more cost-effective than in many European countries, making it accessible to a broader population. European patients can save a substantial amount on their dental bills by choosing Turkey for treatment.
Multilingual Dental Professionals
Communication is seamless as many dental clinics in Turkey have multilingual staff, ensuring that European patients can express their concerns and preferences effectively.
Comprehensive Dental Packages
Many dental tourism providers in Turkey offer comprehensive packages that include dental treatment, accommodation, airport transfers, and even guided tours of the country's attractions.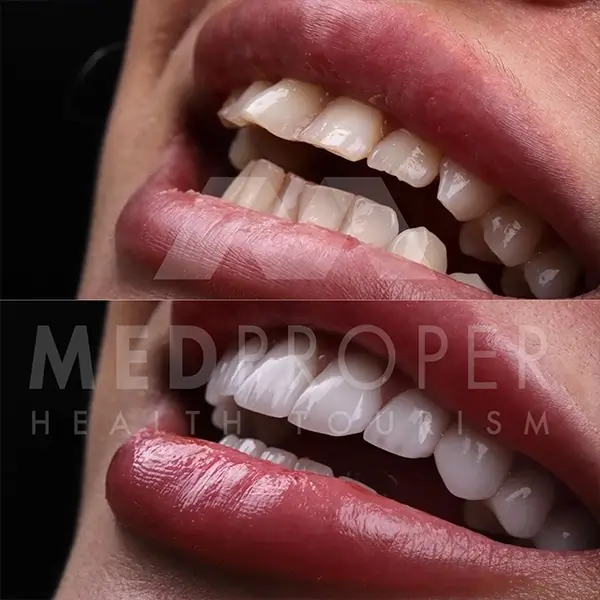 Cultural Enrichment
European patients can make the most of their visit to Turkey by exploring its rich culture, history, and cuisine.
Quality Assurance
Dental clinics in Turkey adhere to international standards of hygiene and patient care, providing a sense of security to European patients.
Advanced Cosmetic Dentistry
Turkey is a popular destination for cosmetic dentistry, offering services such as teeth whitening, veneers, and dental implants, helping patients achieve their dream smiles.
Restorative Procedures
European patients often seek dental treatments in Turkey for restorative procedures like crowns, bridges, and dentures to enhance oral function and aesthetics.
Patient-Centered Care
Turkish dental professionals prioritize patient comfort and satisfaction, ensuring a positive and pain-free experience.
Empowering Dental Tourism
Dental treatment in Turkey empowers European patients to take control of their oral health, addressing issues promptly and affordably.
A Holistic Experience
Combining oral care with cultural exploration allows European patients to make their dental journey not only about health but also enrichment and adventure.
Conclusion
Turkey's reputation as a top destination for dental treatment is well-deserved. The combination of skilled professionals, advanced technology, affordability, and a commitment to patient satisfaction has made Turkey a go-to choice for European patients seeking dental care. Choosing Turkey for dental treatment not only ensures the health of one's smile but also offers a holistic journey enriched with culture, history, and savings.
Turkey attracting a growing number of European patients seeking high-quality oral care at affordable prices.